Last Updated on May 30, 2023 by
Though this gentle giant is not officially recognized by ARBA, you can still find breeders putting up Continental Giant Rabbit for Sale in the US.
Continental Giant Rabbits are a large breed of rabbit, with males weighing up to 30 pounds and females up to 20.
They can be found for sale at several Continental Giant Rabbit Breeders or certain pet stores.
This article will discuss things that should be considered before purchasing one including the average price of Continental Giant rabbits for sale in the US, estimated transportation costs, and where to buy your Continental GIant bunny.
What is a Continental Giant Rabbit Price
Continental Giant Rabbits cost around $60 to $350.
Nevertheless, the price may vary according to their age, weight, nature, and lifespan.
At the same time, the price of these Continental rabbits also depends on their pedigree and quality.
If you're buying or adopting one from outside your state, you'll need a transporter.
Transporters are not cheap. The average cost of a breeder delivery ranges from about $125 to 500, depending on the distance.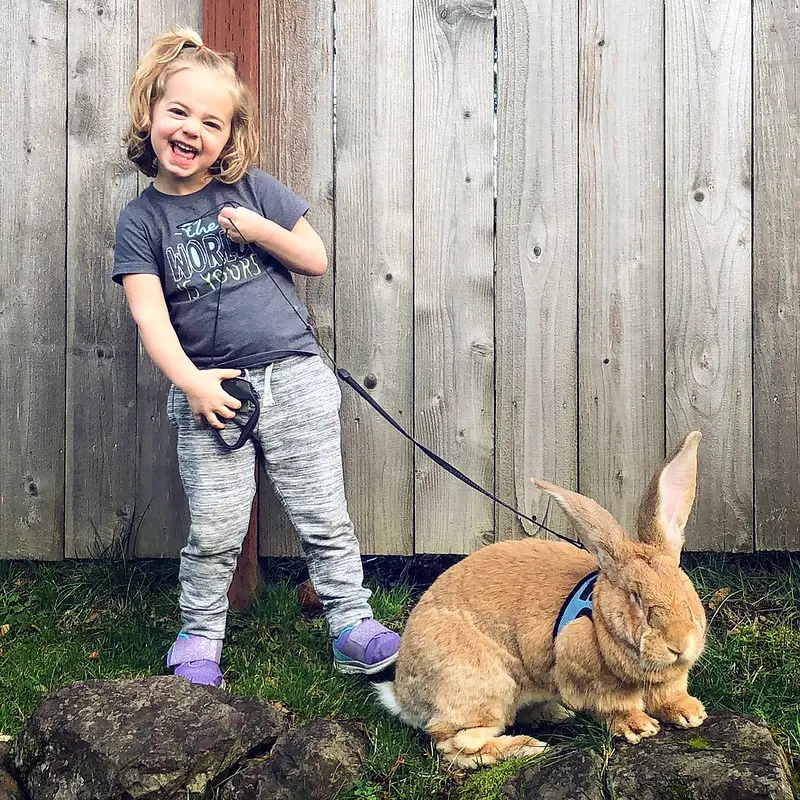 Where to Buy Continental Giant Rabbit in the US
We encourage you to get your pet rabbit from a reputable breeder. This way the rabbit you choose will be healthier and more likely to have the right temperament for you.
Below is a list of Continental Giant Rabbit for sale from reputable breeders in the US (as of July 2021):
| Breeder | City | State | Email | Phone |
| --- | --- | --- | --- | --- |
| Sugar Ray's Rabbits | Litchfield | Connecticut | Email | 860-567-8577 |
| Crystal Creek Rabbits | Livingston | Texas | Email | 936-433-7206 |
| Red Rock Rabbits | Cedar City | Utah | | 435-238-6103 |
| WEB's Buns | Southwestern | Ohio | - | - |
| Giants Among Us | Meridian | Indiana | - | - |
| Briarwood Continental Giants | - | Washington | - | - |
Note: We are in the midst of adding more US breeders to this list. Please check again next month for an updated list.
What to ask the breeder before getting a Continental Giant Rabbit
Most people who want to buy Continental Giant rabbits tend to think that they can simply purchase one from a pet store. But they should be concerned about different things before buying a bunny.
Indeed, they are comparatively cheap at the pet store, yet, you don't get to the background information of the rabbit.
Here is a great tip to follow before you buy a Continental Giant rabbit; try to find out the pedigrees of its mother and father.
You should look at the bloodline of any potential purchases closely before buying and make sure you determine how related they are by carefully examining their pedigree chart.
Do remember to ask the overall details about fathers and mothers such as temperament, diet, and nutrition, hygiene, healthcare, and well-being. That way, you'll have a better idea of what kind of Continental Giant bunny you'll get.
Things to consider before you buy a Continental Giant Rabbit
1. What kind of rabbit cage does a Continental Giant need?
Continental Giant Rabbits require space. You'll need to
get a big enough playpen
for them to run around. The cage should be at least four feet wide and six to eight feet long with a height of 24 inches or more. A good rule is one square foot per pound for the rabbit's weight, so make sure that you have enough room in your house before you consider buying a Continental Giant Rabbit.
2. Are Continental Giant Rabbits good for children?
Continental Giant rabbit is a very large breed and can be too much for some children to handle. The weight of this animal also does make it unsuitable for small children to lift by themselves.
3. Do you have other pets that can't get along with the Continental Giant Rabbit?
Pets from different species coming together are not easy, but it's better to take your time. Introduce the new animal slowly if you have a dog or cat in order for them to adjust. They'll need to feel safe enough before interacting with your new furry friend.
4. Are there veterinarians near you?
With the help of a veterinarian, you can treat your beloved pet Continental Giant bunny in case something goes wrong. You'll need to be able to find that vet easily and quickly when an emergency arises. Keep their contact information on hand at all times so there isn't any delay.
5. Do you know where and who you are buying your Continental Giant Rabbit from?
It is crucial to find out information about your Continental Giant's background information and breeding history.