Last Updated on May 31, 2023 by
If you've been stuck at finding rabbit names, your search will (probably) end here!
Pet rabbits are getting more popular in the world. They are rated very high on the list of most favorite pets, especially among children. The day we adopt a new pet and bring it home with us, is one of the greatest moments in life. Whether our new furry friend is a boy or a girl rabbit, picking a unique, funny, and cute bunny name can be a challenge.
That is why we bring you the list of the cutest and funny rabbit names (female and male):
Rabbit Names For a Boy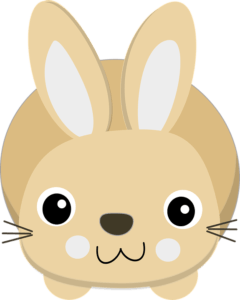 30 Cute Male
Rabbit Names
Paco
Pepsi
Harry
Nemo
Peanut
Chico
Tiger
Boo
Max
Oliver
Simba
Georgie
Iggy
Rory
Leo
Charlie
Milo
Bear
Apollo
Prince
Theo
Thomas
Leonard (Leo)
Rocky
Gizmo
Gus
Joey
Julius
Felix
Sam
30 Funny Male
Rabbit Names
Smokey
Oreo
Fluffy
Ham
Rambo
Shadow
Candy
Panda
Sylvester
Justice
Jj
Junior
Scooter
Sebastian
Magic
Mango
Milo
Teddy
Monkey
Thor
Bentley
Blue
Boo
Cookie
Ash
Oscar
Lucky
Pumpkin
Pepper
Dusty​
Rabbit Names For a Girl
30 Cute Female
Rabbit Names
Maggie
Callie
Chloe
Sophie
Molly
Fiona
Ariel
Princess
Bella
Ellie
Nora
Leonie
Eva
Stella
Lily
Abby
Luna
Hannah
Ivy
Kira
Daisy
Ella
Emily
Emma
Lilly
Lizzy
Mia
Maya
Tinkerbell
30 Funny Female
Rabbit Names
Fluffy
Misty
Panda
Missy
Justice
Princess
Peanut
Queenie
Pumpkin
Pearl
Kit Kat
Mocha
Strawberry
Molly
Gypsy
Moxie
Heidi
Muffin
Honey
Lady
Mama
Pandora
Paris
Nutella
Snickers
Swettie
Winnie
Lulu
Sugar
Let Your Rabbit Help Decide
There are plenty of bunny names to choose from, but if you have not decided yet, then ask your rabbit for help. Consider its color, personality, outer appearance, behavior, and hairstyle to help you pick a name.
For example, if your rabbit is black and white you can call it Oreo.
To Summarize
Our pets will be here for a long, long time and if you just brought a new rabbit to your home, then this will be the start of a long and beautiful friendship.  But, make sure you are informed enough about these cute little creatures.
On the other hand, if you just randomly browsing the rabbit section on our page, then consider getting a rabbit. Rabbits are great as pets.
You won't regret it!