Do you know how once you see a fluffy thing you have this insatiable need to cuddle and hug it?
I believe that's intrinsically human, we are drawn to cute and fluffy stuff… or pets. I've been an animal lover all my life and have been surrounded by people who are too.p
Our stories and pet photos always include us hugging our pets. To be very honest, it's a comforting act.
They're soft and warm and fuzzy and all of that translates to feel when we hug them. However, I know you're also curious, can we cuddle our rabbits?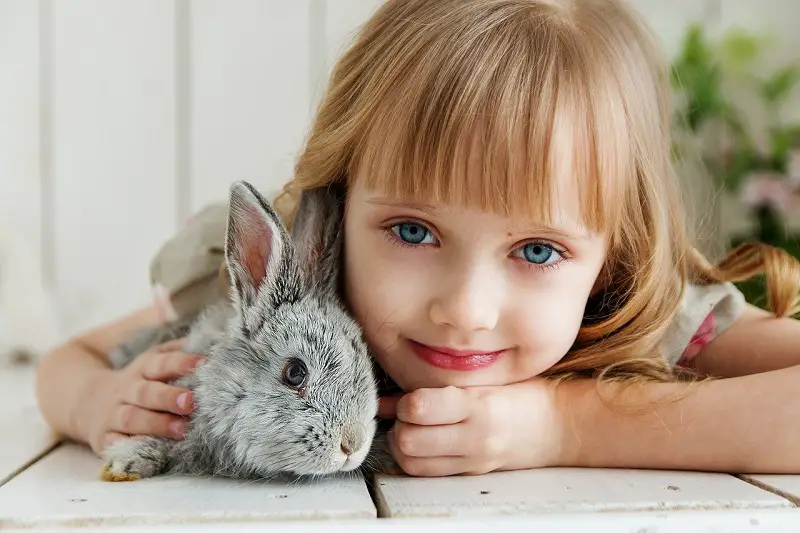 There are different ways for you to cuddle your rabbits. This is largely dependent upon the size of your rabbits. You cannot just through your hands around a dwarves rabbit's neck. Also, cuddling is very dependent upon what your rabbit will tolerate.
If your ideal pet involved being able to lie on their stomachs and bury your head on their furry necks, then rabbits might not be the most suitable pets for you.
Big dogs tend to tolerate these kinds of affection more because their body is bigger and sturdier. Rabbits are very fragile pets thus, you always have to be gentle with them even when you're being affectionate.
Do Rabbits Like to Cuddle? 
The first thing one has to remember when it comes to rabbits is that they are prey animals. Even if they have already been domesticated for years and years they still have traces of their wild instincts. Thus, rabbits get scared when they feel that they are trapped.
It is a common belief that rabbits don't like being lifted off the floor and held. When you hold rabbits in your arms, you close off any path of exit that they can take, thus making them feel trapped and scared. 
Rabbits then may kick or bite, sometimes it's even hard to get them off the floor at all.
Rabbits will try to hop off your arms when you try to carry them. This could be dangerous because if they jump off from a high position, they can easily get injured.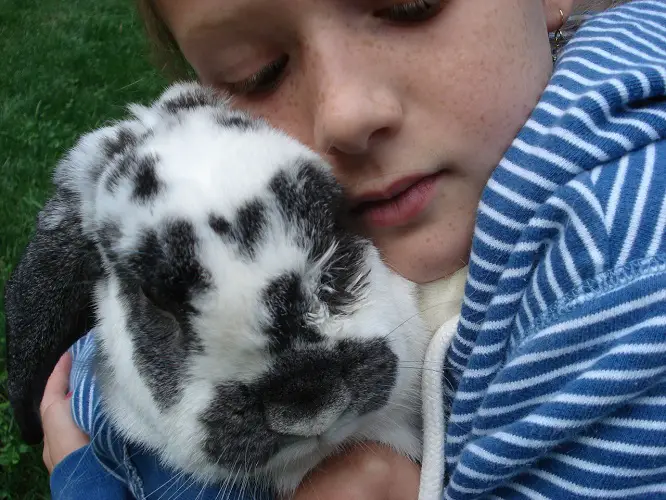 Rabbits also tolerate being cuddled or held based on their personalities. Some rabbits are more affectionate than others. Male rabbits for example are more outgoing and friendly than female rabbits.
Female rabbits are stubborn and standoffish and one would have a harder time cuddling with them.
Previous home environments can also play a factor in your rabbit's willingness to be held if they came from a bad environment with abusive parents then they would not most likely feel scared when being held. 
However, this does not mean that you will never get be able to hold or cuddle with your rabbits. All you have to do is consistently bond with them, show them your affection and your sincerity to take care of them.
Rabbits, while they are prey animals, are also social animals. They thrive as be you their affection, in their way. 
How to cuddle with your rabbits the right way 
Here I listed some of the tips and tricks for you to spend some time with your rabbit and show them your affection: 
Be aware of the different forms of affection that rabbits like
Rabbits are fragile pets so you can't rough house with them like you would with huge breeds of dogs. They are also laid back and prefer to spend some quiet time together.
In the wild rabbits show their affection for other rabbits by grooming them. This can be mimicked by humans by gently petting their rabbit's head or gently stroking their bodies. Other forms of affections that rabbits can tolerate usually mean sitting closely together or letting them sit on your lap while sitting on the floor. 
Form a bond with your rabbit
The golden rule to rabbit cuddling is to form a bond with your rabbit. Rabbits will largely ignore you the first few days that you take them home.
Also, they will more likely hide from you if you scare them. Thus, your rabbits must trust you first before you try to cuddle with them 
Give them treats
The way to a rabbit's heart is through food. Bananas are essentially like sweets to rabbits thus, you can use this to give them as rewards.
Positive reinforcement helps make good associations with rabbits. If they associate you with a benevolent being that gives them good food then they will most likely trust you. 
Playtime is a great time
Play with your pets! They need the daily exercise anyway thus, you can use this time away from their cages to play with them. Give them chew toys, or use this time to train them to do tricks.
It will be an enriching experience for your pet and a rewarding one for you.
Free roam your rabbit
Free-roaming rabbits will make them happier and more contented. It is also not impossible to free roam rabbits because you can train them to use the litter box.
Rabbit proofing your home and having your rabbits spayed and neutered will also minimize or remove any destructive habits your rabbits might develop. Besides, letting your rabbit free roam will let them explore and be more comfortable in their surrounding. 
Let your rabbits explore you
Don't push your rabbit. It takes time and patience to bond a rabbit. Accompany your rabbit and let them come to you. In time, they will learn that you do not mean them harm and you might finally receive that coveted and long-awaited head nudge meaning "pet me!" 
Learn how to properly pick up your rabbit
Do not pick up your rabbit the way you would pick up other pets such as dogs. You need to be supporting their bums while your other hand is supporting their chest.
This will give you a strong and stable grip on your rabbit.  Also, pick them up by going to their level this means kneeling beside them or sitting beside them. This will make you look less imposing and intimidating.
Check and do not ignore your rabbit's reaction
Always be aware of your rabbit's reaction. If your rabbit hops away when you try to pick them up then don't push the activity. If they allow you to pick them up, don't pick and hold them up for too long to avoid them feeling trapped.
Give them treats for them to associate the experience with a pleasant one. This would make them more likely to tolerate being picked up. 
Start holding them in your lap before carrying them
This is more to avoid any unnecessary injuries. You need rabbits to get used to being held. When you're pretty confident that they will remain calm while being carried then you can carry them, give plenty of treats during this time too. 
Stay patient
When it comes to training and bonding with rabbits, patience is a virtue. You need to practice time and consistency when owning rabbits and even then, it might not be always that they will tolerate being held.
You just need to let it go and accept your rabbit's quirks. Besides, you can always pet your rabbit and spend time with them.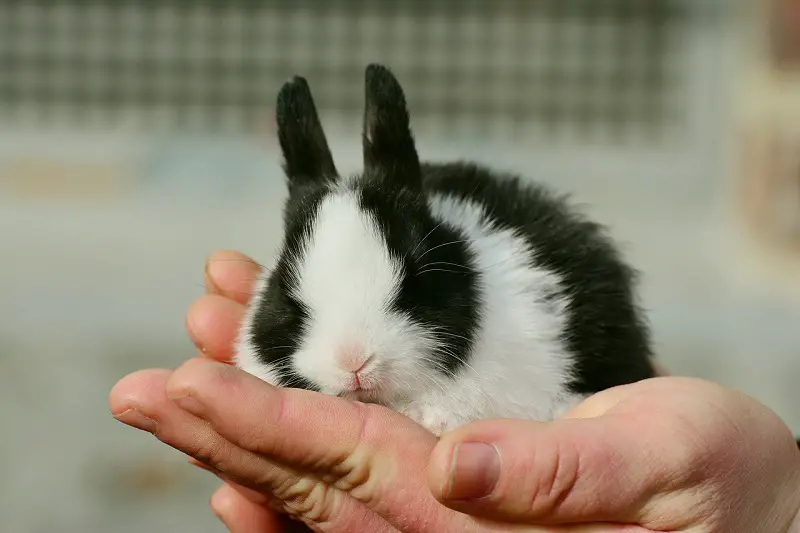 What to avoid when trying to cuddle your rabbit 
I've given the different steps you can take when cuddling with your bunny. However, there are also reminders and actions you should avoid. Not stressing your rabbits is always a top priority. 
Do not force your rabbit
If your bunny doesn't like being held, or when they try to jump off your arms when you hold them then it's better that you do not repeat the activity. This will not do any good as it will not make your rabbit like being held any better. 
Do not squeeze your rabbit
Gentle pets and strokes are what rabbits like best. They are gentle animals so don't ever try to squeeze them. This will also make them feel trapped thus, scaring them. They might try to jump off your arms and this could be dangerous. 
Don't overstay your welcome
Let your rabbits go, and put them gently back on the floor if they need to go. Do not just let them jump off the bed or sofa to the floor. It might be too high for them, especially for old and really small breeds. This might cause injuries. 
Conclusion
Even though rabbits generally don't like being held they can learn to tolerate it as long as they trust you.
However, some might not like being held at all, this is highly dependent upon a rabbit's temperament. This does not mean they don't trust you, rabbits have other ways of showing their affection.